Antique Treasure El Negma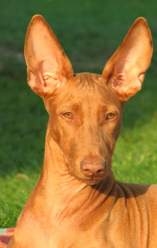 "Mymlan"
female, DOB: 23.5.2008
18.10.2008
Sire: CroatianJCh, CRCh, BiHCh, ItCh, LuxCh, Dracula W-07, Bundessieger-07, BIS Faouziah┤s Excellentia Shadrach
Dam: INTCh, CZCh, SKCh, PLCh, HUCh, ClubCh, ClubW-07, SpecialtyW-05-06-07, SK SpecialtyW-07, CZW-06, res. SBIS, SBIS Cassiopea Spirit of Millenium
Owner: Britt-Marie Sundquist, CHS Siphra┤s, FI

Height:
Weight:
Teeth: complete puppy bite, scisors
Eyes: clear, negative at HC, PRA, RD


They say that memories are golden, 
well maybe that is true. 
I never wanted memories,
only wanted you. 
A million times I needed you, 
a million times I cried. 
If love alone could have saved you, 
You never would have died. 
In life I love you dearly,
in death I love you still.
In my heart you hold a place,
no one could ever fill. 
If tears could build a stairway, 
and heartaches make a lane. 
I'd walk right the path to heaven, 
and bring you back again. 
Our family chain is broken,
and nothing seems the same.
But as God call us one by one,
the chain will link again.	

Photogallery
Antique Treasure El Negma
*Mymlan*
Pedigree
CroatianJCh BiHCh ItCh Dracula Winner-07 Bundessieger-07 FAOUZIAH┤ S EXCELLENTIA SHADRACH
FinCh Fin JW-05 Nord JW-05 WW-06 PLSg-06 PZSg-06 Siphra┤s King of Hearts
Multi BIS Am Ch Anubis Horus of Ghazzi Isis JC
Ch Shema┤s Ghazzi Khan
Ch Anubis Isis Of Dazzling Sun
Multi SBIS BISS Int,Fin, Swe & Dk Ch FinW-01-05-06 KBHW-06 Magicway┤s Min for Siphra
Int,Fin,Nor,Swe & Dk Ch NordW-97 FinLC Ch-97 KBHW-98 FinW-03 Siphra┤s Summernight City
Ch Chefren Min Mut
IntCh NordCh SCh FINCh NCh DKCh EstCh Jww-02 NLJW-02 NordUV-02 NordV-02 NV-02-03 FINV-03-04 KbhV-04 SV-04 BIS SBIS BISS Faouziah's Bastet
SCh SV-00 Faouziah┤s Akunosh
Int Nord, S, N, Fin CH EUW-95 NordV-98 Antefa┤s Jabbah-Kaa
SCh NCh DKCh NordCh Farao Anubis Isis
IntCh NordCh SCh FINCh NCh DKCh KbhV-99 SV-99-00 NV-00 NordV-00 SBIS Siphra's Tell Me No Lies
Int, Nl & Dk Ch WW-95 Immerat - Paroo of the Netherlands
Fin & Nor Ch FinW-98 Siphra┤s Mama Mia
CASSIOPEA SPIRIT OF MILLENIUM
LC Ch Amon Bohemia Genao
INTCh, FCh, LCh Shema┤s Mia Mystic Talisman
CH Shema┤s Mia Mystic Warrior
CH Shema┤s Mia Mystic Jubillee
BOB, CACIB Qaarsha Qaara Ypsylon
CH Ceryas Kan Eben Dag
CH Vedhauge Ida
IntCh, CZCh, SKCh, HUCh, DECh, Ach, ClubCh, KV, NV Bir Sahra Stalagmit
CZJCh Deheb-Tefnut of the Netherlands
CH Antefa┤s Jabbah-Kaa
CH Shamu-Amenjura of the Netherlands
NV, BOB B┤Affertari Eben Dag
CH ChassÚllis Ishtar
CH Nawa du Wicks Team